Technical Details
Digisol DG-IC422A G.SHDSL LAN Extender
Digisol Dg-Ic422A Lan Extender comes with a Routing Solution to provide high-speed G.SHDSL.bis functionality which serves the requirements of bandwidth as well as management functions. It is designed to offer top performance through a single G.SHDSL.bis line. The Lan extender with a symmetrical data transmission rate of about 5.7Mbps over a standard telephone line is an ideal solution for SOHO users requiring fast, steady connection at a minimum operating expense within a campus or for point to point application. It can be quickly configured via an easy-to-use Web and GUI based interface or alternatively by means of a CLI(Command-Line Interface) employing the Console port. Equipped with a robust four LAN port interface, the hub is utilised as a LAN Extender essentially for LAN-to-LAN bridging above a pair of twisted copper wires. The LAN extender with an in-built router offers a highly-functional and cost-effective solution for high-speed network connection to Enterprise, SME or SOHO working with high speed symmetrical data connections.
Exceptional LAN Technology
The LAN extender offers a robust IP routing and transparent learning bridge to conveniently support various broadband Internet services. The ultra-advanced IEEE 802.3/ IEEE 802.3u standard support of Digisol Dg-Ic422A Lan Extender delivers secured and sturdy bandwidth and management functions. It smoothly and securely provides high performance using a single G.Shdsl Line to provide quick network access. The PPPoA and PPPoE support lets you form several lists with passwords for separate user authentication using PAP / CHAP. Further, it supports SNMP management with the help of SNMPv1 / SNMPv2 agent as well as MIB II. With a built-in 4-port 10/100Mbps switch you can connect broadband network cables to the device in order to establish a network connection. The LAN extender also features a powerful built-in Dying Gasp circuit to prevent mishaps.
Advanced Firewall Features
The VPN pass-through strongly safeguards your network from unwanted intruders, virus, spam, and malicious attacks. A fully ATM protocol stack-implementation over SHDSL security feature offers intrusion detection, unauthenticated connection restriction and attack prevention. The security firewall of Digisol Dg-Ic422A Lan Extender includes features such as AN Port ping, and URL blocking or filtering to protect your internet connection from intruders that may spam or use your bandwidth from your network or steal confidential information. Furthermore, this device offers highly flexible and customisable security settings as these settings can be enabled or disabled as you wish.
Parental Control Functions
To limit the usage of your network and simple access to only authenticated devices, Digisol Dg-Ic422A Lan Extender offers an easy configuration and management using a password control method for various specialised application environments.
Other Paramount Features
The Digisol Dg-Ic422A Lan Extender comes with a front LED display panel to provide you clear view about the connection status, and other information.
Digisol DG-IC422A G.SHDSL LAN Extender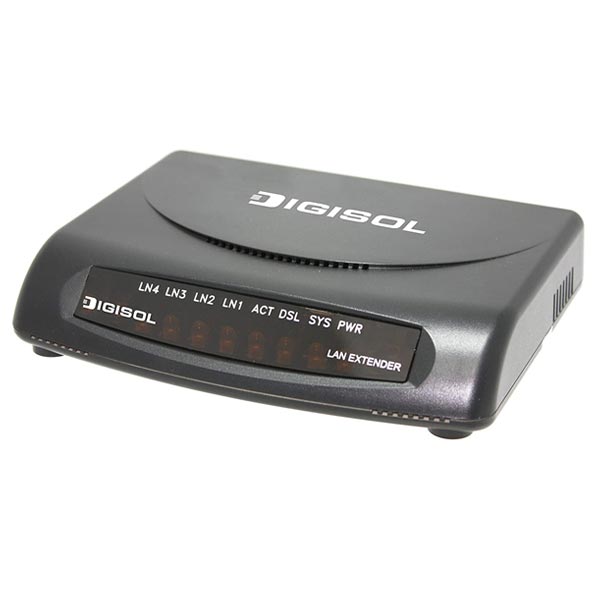 Dlink DSL-1504G G.SHDSL 4port LAN Extender >>